The RACI chart or commonly known as the RACI matrix or diagram works as a project manager that aims to make your life easier. The RACI diagram stands for Responsible, Accountable, Consulted, and Informed. RACI matrix is a tool that identifies roles and responsibilities against tasks within a project. RACI chart tool maps deliverables and tasks against roles on your project, and responsibilities are allocated to each role using the RACI terms (Responsible, Accountable, Consulted, and Informed).
What Each Term in the RACI Matrix Means?
It's a given fact that complex projects make it easy for teams to lose track of designated tasks. You may have an excellent team to work on the tasks, but if you're not specific about assignments or even involvement on a task level, crankiness, demotivation, and confusion will creep into your team and that is not good.
Fortunately for you, you can avoid those issues by creating a RACI matrix. But before moving forward with the RACI matrix creation, let's delve into what RACI means.
Responsible: Doing the Task
This person action deliverables or tasks. They are responsible for making the decision and getting the work done. It can sometimes be more than one person but try to reduce the number of people involved.
Accountable: Owning the Task
This person delegates work and are responsible for the overall completion of the deliverable or task. Ideally, this should be delegated to one person rather than a group to avoid confusion.
Consulted: Assisting
This person, role, or group will provide useful information to complete the task or deliverable. There will be two-way communication between those responsible for doing the task and those consulted. Every task or deliverable is strengthened by consultation or review from more than one team member. Consulted parties are typically the team members who provide input based on either how it will affect their future project or their domain or expertise on the deliverable itself.
Informed: Keeping Aware
These groups or individuals will be kept updated on the task or deliverable. This could be on progress, or when the deliverable or task is completed. Though they're not asked to review or give feedback, they can be affected by the outcome of the task or deliverable. These roles or groups need one-way communication for this one.
Below is an example of a RACI matrix: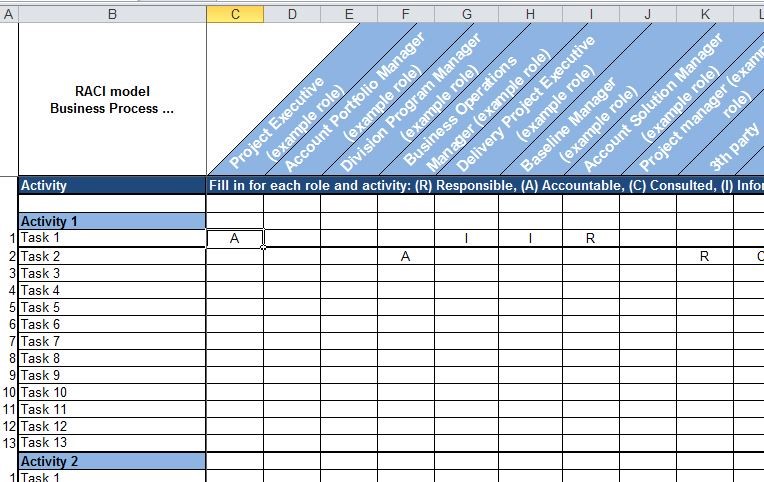 So how do you create and use a RACI model? Check out this video!
The Advantages of RACI Matrix
Having a RACI matrix in place can be useful to refer back to throughout the progress of the project. Instead of involving every single person on your team in every single decision, you can streamline the communication involving the right people at the right time and speed up decision making and sign-offs.
RACI matrix helps you set a crystal clear expectations about responsibilities and roles. This means you don't have multiple people working on the same task or against one another. This speeds up completing the task without wasting so much time.
Avoiding People Overload — It is kind of overwhelming when you get opinions from everyone and it becomes a nightmare trying to apply everyone's point of view. This is where RACI can be useful. The advantage of having the distinction between Consulted and Informed is that you can separate those individuals involved in feedback and those that are updated only upon the completion of the task.
Avoiding Work Overload – Creating a RACI matrix on your project can create a lot of efficiencies. When you create a RACI chart at the beginning of your project, you can easily set clear expectations for who is managing or responsible for work going forward. It also eliminates confusion by knowing who is accountable for the completion of a specific task.
Common RACI Mistakes and How to Avoid Them
Though the RACI matrix has its load of advantages that you can enjoy to make things easy for you, there are also disadvantages that you should be aware of with using a RACI chart:
It can create confusion by a lack of understanding of differences between the terms
Can be time-consuming to create
Often ignored after approval
Can add unnecessary complexity to a project
It doesn't account for the approvals on deliverables or tasks
And of course, we have a ready-to-go RACI matrix template to speed up your project deliverables. This template is created in Microsoft Excel and can be adjusted easily to your needs.
Learn more about how the RACI matrix works and how it can improve your business and efficiency of your workflow. This will help your team's workload a lot more easier.